Clinics

Clinics and Workshops:
We are excited to be hosting a number of great clinics and workshops at this year's MEC Snowfest Calgary.
All the clinics are free and run by experts in the sport. Feel free to drop by and attend! No sign up necessary*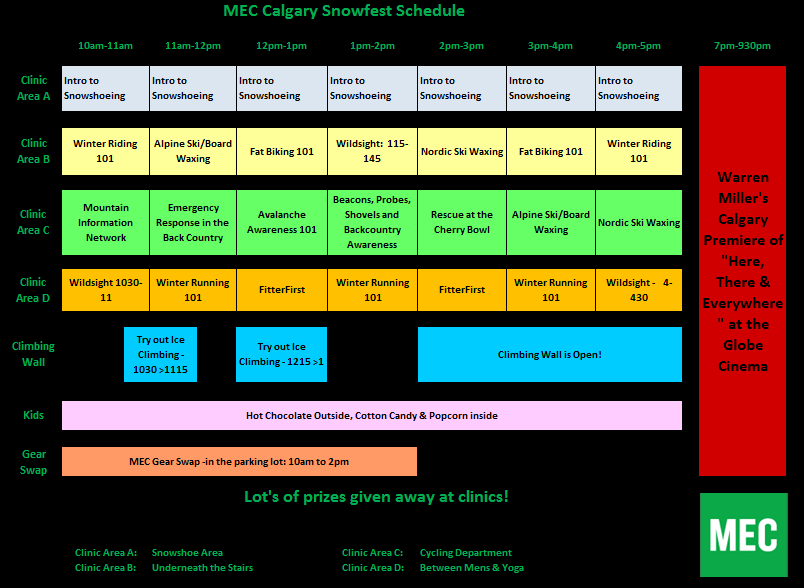 Clinic Descriptions:
Ice Climbing
We have two amazing ice climbing opportunities with Peak Strategem that will run from 10:30 to 11:15 and again from 12:15 until 1.
We will also have open free climbing on our climbing wall from 2pm - 5pm
---
Intro to Winter Cycling:
Have you always wondered what winter cycling might entail? Learn from the hardened winter cycling and cross Canada bike tourer Aaron Clemens everything you might need to get started winter cycling. This clinic will focus on the gear required for winter cycling, the weather conditions, the best pathways in the city, safety on your bike, and prepping your bike for winter conditions.
---
Alpine Ski Waxing and Maintenance:
Come and join Rick from Tools4Boards for a clinic on maintaining your alpine skis. This session will focus on Base repair " P TEX," Edge Sharpening, and waxing your skis properly at home.
---
Nordic Ski Waxing:
Learn how to wax those Nordic ski's for free from one of our certified MEC Ski technicians Dave Bourgeois!
---
Intro to Snowshoeing:
Join a knowledgeable MEC Staff member to give you the lowdown on Snowshoes! This clinic will include information on The types of snowshoes, how to choose the right snowshoe, where to snowshoe, and snowshoe accessories
---
Avalanche Canada: "Mountain Information Network" & "Rescue at the Cherry Bowl"
MEC and Avalanche Canada have joined forces to help you prepare for avalanche terrain and learn more about how to play safe every winter. These clinics will go through how to read avalanche terrain as well as the infamous Rescue at the Cherry Bowl incident from 2013.
---
Beacons, Proves, Shovels and Backcountry Awareness:
Avalanche equipment: there are so many choices at MEC now! What do I need? What should I look for? How do I decide? We
'
ll talk about the different types of shovels, probes, transceivers (beacons), avalanche balloon packs, and other accessories.
---
Avalanche Awareness 101:
Join Brad Harrison; a professional member of the Canadian Avalanche Association Executive Director of Backcountry Lodges of BC Association for an introduction to the basics of avalanche awareness and safety. Tips on how to recognize avalanche terrain and avoid hazards. This clinic will include trying out some of the essential survival equipment used in companion rescue and hints on preparing yourself for a backcountry trip, what to wear, items to carry in your pack, where to get information.
---
Your Emergency Response in the Backcountry
Join Cloud Nine Guides for a clinic about what to do if you or a group around you is in need of emergency care, and required to respond to an accident in the backcountry. This clinic will focus on what you should have with you and your response to incidents that may occur in the backcountry.
---
Wildsight
Wildsight Canada will be offering a few thirty minute presentation on Jumbo Wild and Conservation in Canada. Jumbo Glacier Resort is a proposed 4 season ski resort in the heart of the Purcell Mountains. Jumbo Valley is in the middle of the proposed resort, it is where girzzly bear science meets grizzly bear spirit. The area has long been revered for its spiritual significance and beauty. To the Ktunaxa Nation, it is known as Qat'muk, home of the grizzly bear spirit. Biologists recognize the area as critical core grizzly bear habitat. That is one issue among many that Eddie from Wildsight Canada will discuss. Come to one of the clinics to find out more about conservation in Canada!
---
Fitterfirst
Join Louis Stack, President of Fitterfirst, reading a chapter from his new book "Speed, Balance and Aging Gracefully". Louis is an entrepeneur that started building his cross trainer prototype as a way to recover from a skiing injury and it has now been developed into a multimillion dollar company. Louis is seen as a guru of health and wellness in the industry. Come out and ask him your questions and listen to his insights!
Clinic Sponsors: